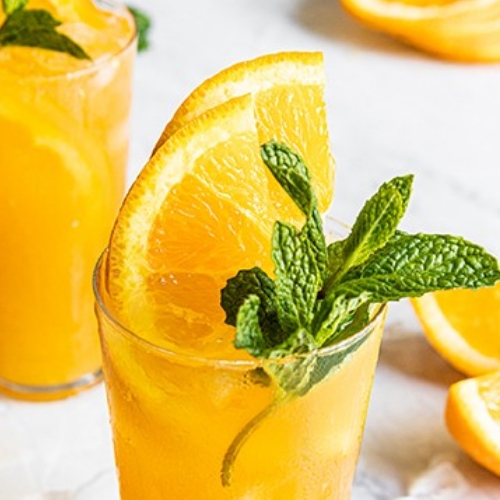 Orange Juice Mint Smash
Serves 1
Prep time 10mins
Cooking time 5mins
Ingredients
2 Valencia oranges, juiced
3 tablespoons of bourbon
2 tablespoons orange syrup
1 fresh mint sprig
1 Valencia orange slice
Crushed ice, for serving
Orange syrup
1/2 cup granulated sugar
1 Valencia orange, zested
1/2 cup water
Instructions
In a tall glass or wine glass, muddle together the orange syrup (recipe below), mint sprig and orange slice.
Stir in the orange juice and bourbon, fill glass with crushed ice and stir.
Garnish with additional mint sprig and orange slice and serve.
To make orange syrup
In a small saucepan, combine the sugar and orange zest with water.
Bring to a simmer over medium heat and cook until the sugar has dissolved, 1-2 minutes.
Let cool completely, then strain.
Store in the refrigerator for up to 1 month.