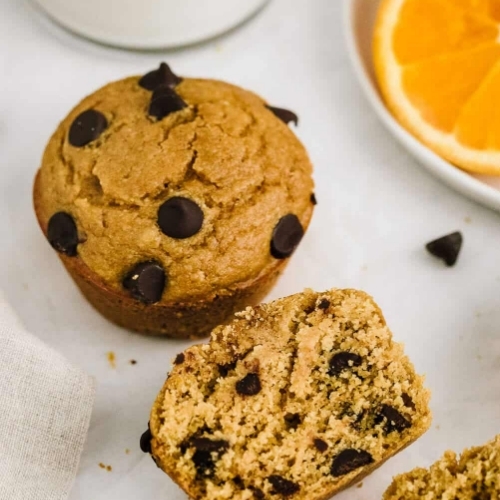 Orange Chocolate Chip Muffins
Serves 12
Prep time 15mins
Cooking time 18mins
Ingredients
1 1/2 cups oat flour
1 cup blanched almond flour
2 teaspoons baking powder
1/2 teaspoon salt
2 eggs
1/2 cup coconut sugar
1/2 cup Sunkist® Valencia orange juice
1/2 cup dairy-free Greek-style yogurt
3 tablespoons avocado or coconut oil, melted
3/4 cup dark chocolate chips
Directions
Preheat oven to 350 degrees F.
Prepare a muffin tin with muffin liners, or by coating lightly with avocado or coconut oil.
In a large bowl, combine oat flour, almond flour, baking powder and salt.
In a separate bowl, whisk together the eggs, coconut sugar, orange juice, yogurt and oil.
Add wet ingredients to dry ingredients and mix until just combined.
Gently fold in about ½ cup of the chocolate chips, reserving the rest to top each muffin.
Evenly distribute batter into the prepared muffin tin, filling the cups about three-fourths of the way. Top the muffins with the remaining chocolate chips.
Bake for 15-18 minutes, until a toothpick comes out clean.
Let cool for 5 minutes in the muffin tin, then move to a wire cooling rack to cool completely.
Store in an airtight container on the counter for 3 days or in the fridge for 5 days. The muffins can also be frozen for up to 3 months.