"It's a fresh, sweet taste. The first one you taste every new season is always refreshing."
Tairāwhiti Gisborne: Persimmon Capital of New Zealand.' Haven't heard that before? It wasn't always the case, but the region now has the highest amount of persimmon plantings in the country.
Unsurprisingly, those glossy, mildly sweet subtropical persimmons just love that Tairāwhiti Gisborne climate, says First Fresh persimmon grower Wayne Hall.
Wayne has been a grower at Wi Pere Farms, a large agribusiness and horticultural operation based at multiple locations around Tairāwhiti Gisborne, for a decade – and growing persimmons there since 2015.
"Persimmon is a relatively new crop at Wi Pere Farms," he says. "It complements the rest of our crops, and fits into a calendar programme where we've consistently got work for everybody 12 months of the year."
And it turns out persimmons are beginning to have their moment with New Zealand consumers. Right on time, points out Wayne: "We've reached full production with our persimmons two years earlier than we'd budgeted, so we're starting to get some really good results out of the crop," he says.
They're a lot more accessible and better-priced than they were in the past – but they're still a bit of a niche taste, Wayne concedes. "Kiwis are slowly getting to grips with the fruit," he says. "You either love them, or you hate them!"
While they're starting to be more beloved at home, Wayne knows that no matter what, he's in good hands selling his persimmons with First Fresh – a market leader in both New Zealand persimmon sales, with a strong track record of export success with persimmons.
What does Wayne think of them? He's firmly in camp I Love Persimmons. "It's a fresh, sweet taste. The first one you taste every new season is always refreshing. The colour of the fruit is appealing, it's beautifully shiny – it's a visually appealing piece of fruit."
Support your eyesight: persimmons boast more vitamin A than any other fruit.
Learn more
From our trees to your kitchen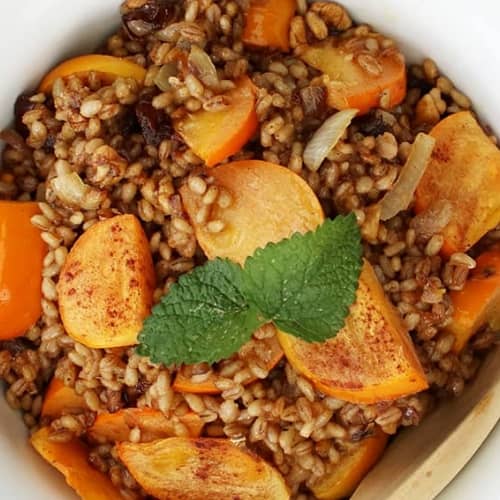 Persimmon Recipes
Looking like an orange-coloured tomato but honey-sweet, mild and autumnally cosy, First Fresh persimmons have cooking potential in spades. Our persimmon recipes take advantage of this autumn fruit in myriad ways.
View Recipes