"There's the enjoyment of actually producing something. There's always that challenge of producing premium quality."
Former professional fireman Jason Galloway runs three separate citrus orchards and is one of First Fresh's major growers of premium-quality Meyer lemons for export.
"I was juggling both my fire service role and growing citrus for a number of years. But our orchard got bigger, and about 15 years ago we decided we'd go down the orcharding road fulltime." He was ready for a change of pace and scene. "When you sit round the fire station all day, you don't produce anything. And when you turn up at someone's house, they kind of want to see you – but they don't want to see you!" says Jason.
"Like any farming, we do it for the lifestyle as well. It's good for the kids. They're in their early teenage years now, and they're always out there helping us. It gives them a bit of pocket money in the school holidays as well. They ask me every school holidays: 'Dad, what have you got for me to do?' They're a great help really – I enjoy the school holidays!" laughs Jason.
While he may not literally be putting out fires anymore, there's always something heating up on one of his orchards. "We've got 15 hectares of citrus. We're growing encore mandarins, meyer lemons, navel oranges, satsuma mandarins, limes, yenben lemons, finger limes, tangelos, Valencia oranges, grapefruit and a couple of other niche citrus varieties," says Jason, "So we're picking most of the year."
The quality of the Galloway's meyer lemons is so good that the bulk of them are sent out into the world as premium New Zealand export produce. "I love that challenge of producing premium quality. If you're not continuously trying to improve, there's not much point in doing it – that's my theory. We're always trying to improve, get our pack outs better, and get our tonnage up. There's a lot of pride in doing what we do," says Jason. "Some years you go backwards because of climatic conditions, weather, or something else out of your control. That's just part of it – part of farming. You don't win 'em all, but if you're trying to improve across the board, it's good for the soul," he says.
Bring on the B's: lemons are a source of the B vitamins, essential for helping your body convert carbohydrates, protein and fat to energy.
Learn more
From our trees to your kitchen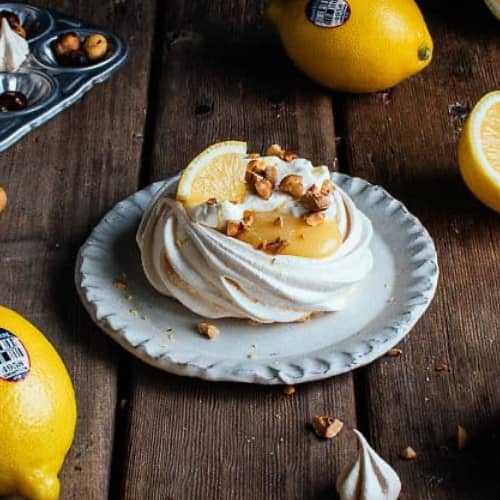 Lemon Recipes
First Fresh Lemons give beautiful flavour to sweet and savoury dishes – in fact, cocktail lovers, chefs and home cooks worldwide would be lost without their tart, zesty freshness. So next time life gives you lemons, make…
View recipes