"I get a buzz out of planting something small, watching it grow and develop to a fully productive tree."
Murray Burgess has worked in orchards all his life. A few years into his orcharding career, he decided to go out on his own. "I thought, I'm getting sick of working for other people – I might have a lash at this myself!"
Fast-forward 20 years, and he's well-established at his strictly citrus orchard in Te Karaka on the outskirts of Gisborne.
Murray's orchard is a veritable citrus paradise. "We've got early navel oranges, late navels, early mandarins, late mandarins, two varieties of lemons, three varieties of grapefruit, lots of limes…you name it – we've got it!"
A true good bloke, Murray takes pride being a great employer of fellow Tairawhiti Gisborne locals. "A lot of my team have kids and it's hard for them to get work that delivers that balance they need," says Murray. To combat this, he has established shifts based around school hours and doesn't shy away from giving time off when inevitable family stuff crops up. His fair approach is paying off: "I've got three generations of one particular family working for me, which is quite a buzz," says Murray.
For Murray, the pleasure and passion of orcharding all comes down to growing something productive. "I get a buzz out of planting something small, watching it grow and develop to a fully productive tree – that's quite cool."
There's a special place in Murray's heart for grapefruit. The sweet-yet-tart fruit is a long-time star on the Gisborne Tairawhiti citrus scene, and the definitive star of his Te Karaka orchard. And he's worked hard to know how to grow some of the region's most premium grapefruit. "When I first started growing grapefruit 20 years ago, my goal was to get as much out the gate as I could," says Murray. "The longer I've been here, I'd rather send less out the gate – but better stuff."
There's a few tricks you learn along the way you to get that quality, Murray reckons. But he's keeping those secrets close to his chest. "There's a bit of a knack to growing them. You can't just chuck 'em in the ground and walk away and them come back in a few months' time and pick 'em. You've got to look after them to get the good stuff," he winks.
The no-waste movement is firmly at the heart of Murray's approach to growing his grapefruit. "With grapefruit, there's no waste," says Murray. "You can sell your perfect grapefruit in the supermarket, and the imperfect ones will get sold for juice. Even the rind can be made into marmalade – so nothing's wasted."
Murray is one of First Fresh's most loyal growers, with us for 20 years and counting. "I even looked into signing up with First Fresh before I put an offer on our orchard," says Murray. "I wanted to make sure I had somewhere to sell my fruit!" First Fresh stood out to Murray for professionalism, approachability and transparency.
"I put 100% faith in First Fresh to sell my fruit. Next time you're at the supermarket, go and buy some of First Fresh grapefruit – and support us local growers!"
Each Grapefruit is High in vitamin C for a strong immune system.
Learn more
From our trees to your kitchen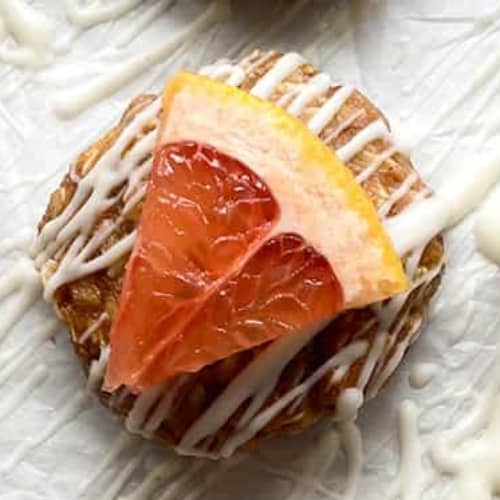 Grapefruit Recipes
Who is the tartest of them all? First Fresh grapefruit, of course! Check out these grapefruit recipes to discover grapefruit's potential beyond its classic breakfast role, and make the most of them while they're in season.
View recipes