"We reckon we're growing the best fruit in the world, in the best place in the world"
Who knew one couples' desire to escape their urban, high-stress careers could lead to the production of some of the world's finest tangelos? Thanks to Vic and Chris Robinson, First Fresh customers are flush with the premium, Gisborne-grown fruit come spring.
In 2012, former nurse and midwife Vic and former marketer Chris were looking for a change of pace. "We were sick of the rat race and looking to do something together. We'd always loved Gisborne. We found this place, fell in love with it and never looked back," says Vic. "We were pretty green when we came here – we couldn't even drive a tractor!" she laughs. 
On their seven acres, the Robinson family grow tangelos, bearss limes, yenben lemons and two varieties of mandarins. 
"That keeps us busy throughout the year," says Vic. "But the work-life balance works for us. We have a nine-year-old son, we can spend lots of time with him – and he gets to live the outdoor life growing up on a farm, driving tractors and that sort of thing."
First Fresh help the Robinsons meet their low-waste goals by selling all the fruit they produce. "We can't stand to see our fruit wasted – and we know there's always a market for all of our fruit with First Fresh."
Those juicy, orange orbs are a source of joy not only for happy tangelo-lovers, but for the Robinson family, too. "Just seeing the joy of children being able to eat the fruit straight off the tree, warm from the sun – it brings us joy, too," says Vic. "We enjoy the pleasure of growing things, seeing them go to market, seeing our friends faces when they tuck into our tangelos, juice running down their chins – and they've never looked happier!" 
"We reckon we're growing the best fruit in the world, in the best place in the world."
Yummy, juicy lunchbox vitamins: tangelos provide 63% of your daily vitamin C requirements.
Learn more
From our trees to your kitchen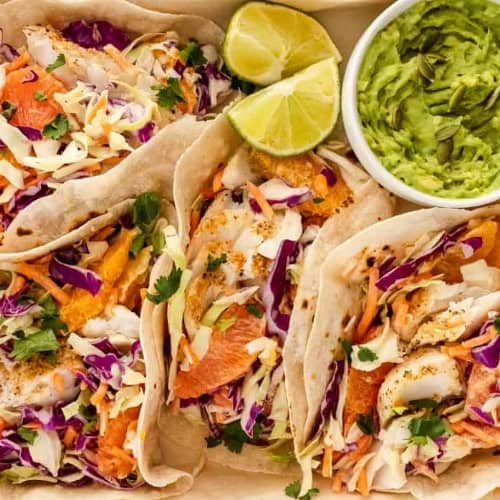 Tangelo Recipes
Raw, juiced, zested – or as an unexpected substitute for lemon or orange zest in your baking, juicy and tart First Fresh tangelos deliver a surprising twist wherever they crop up in cuisine. Try these tasty tangelo recipes and see for yourself.
View Recipes