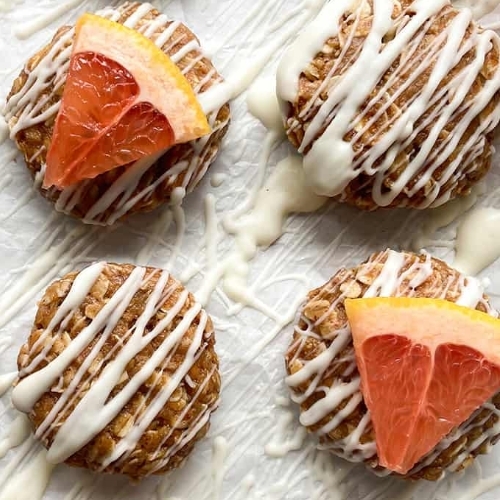 No Bake Grapefruit White Chocolate Oat Cookies
Serves 12
Prep time 60mins
Ingredients
3 tablespoons fresh Sunkist® Star Ruby grapefruit juice
1/4 cup melted coconut oil
1/4 cup honey
3/4 cup creamy drippy almond butter
1/2 cup almond flour
1 3/4 cups old fashioned rolled oats
1/3 cup white chocolate chips
1 teaspoon coconut oil
1/2 teaspoon vanilla bean paste
Directions
In a mixing bowl combine grapefruit juice, melted coconut oil, honey, almond butter, almond flour and oats.
Cover and chill the cookie dough in the fridge for 50 minutes.
While the dough is chilling, melt the white chocolate with the coconut oil and vanilla bean paste. You can do this in the microwave or over a double boiler.
Use a medium sized cookie scoop to scoop the cookie dough and form cookies.
Place the cookies onto a cookie sheet lined with parchment paper.
Drizzle the cookies with the melted chocolate.
Place the cookies into the freezer for 30 minutes.
Garnish with grapefruit pieces and enjoy!