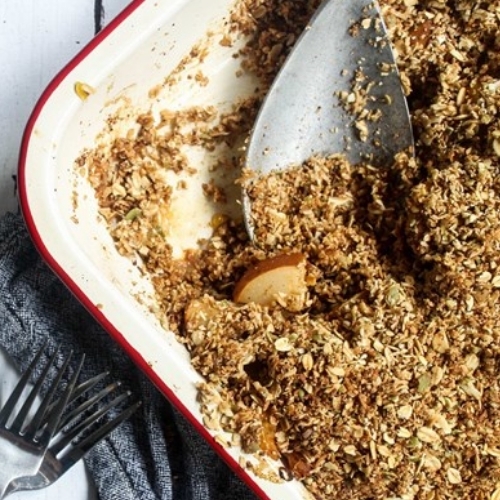 Mandarin and Nashi Pear Crumble
Serves 5
Prep time 15mins
Cooking time 30mins
Ingredients
4 mandarins, peeled and broken into segments
2 Nashi pears, cubed
Juice of 1 lemon
½ teaspoon cinnamon
½ teaspoon nutmeg
1 teaspoon manuka honey
¼ cup water
Topping
2 cups oats
½ cup pumpkin seeds
½ cup desiccated coconut
1 teaspoon cinnamon
¼ cup coconut sugar
50g butter
Directions
Preheat the oven to 200°C fan bake. Take butter out of fridge so that it can soften slightly
Place the pears, lemon juice, cinnamon, nutmeg, honey and water in a saucepan over low to medium heat. Cover and cook, stirring occasionally, for 5 minutes or until the pears have softened slightly. Add in the mandarins and combine ingredients, cooking for a further 2 minutes. Transfer mixture to a square oven dish
Gently pulse the oats, pumpkin seeds, desiccated coconut in a blender or food processor for 5-10 seconds so that they are course and crumbly. Transfer to a large mixing bowl
Add in cinnamon, coconut sugar and combine ingredients. Cut the butter into small pieces and rub it into the topping mixture so that it becomes crumbly. You will know the topping is ready when it resembles coarse crumbs, with a few pea-sized clumps of butter within
Top the pear mandarin mixture with the crumble topping
Bake in the oven for 15 to 20 minutes.
NB: This is beautiful served with vanilla ice cream or yoghurt. It will keep in the fridge for up to one week