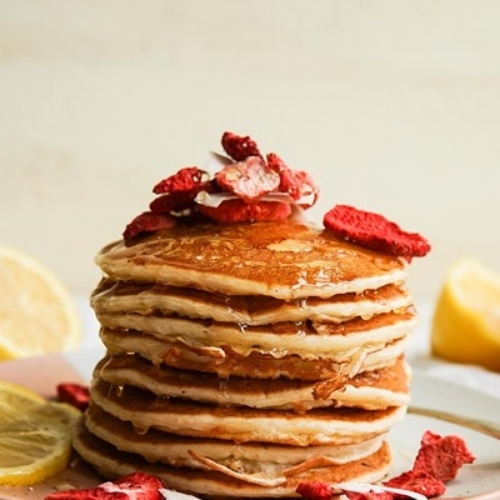 Lemon Ricotta Pancakes
Serves 8 pancakes
Prep time 10mins
Cooking time 15mins
Ingredients
Zest of 1 lemon
¼ cup lemon juice
¾ cup ricotta
1 ½ cups all-purpose flour
2 teaspoons baking powder
½ teaspoon baking soda
3 eggs
1 cup milk of choice
2 tablespoons brown sugar
1 teaspoon oil or butter
Toppings (optional)
Lemon slices
Fresh fruit
Maple syrup
Coconut chips
Freeze dried strawberries
Directions
In a mixing bowl, combine the flour, sugar, baking powder and baking soda
In a separate bowl, whisk together milk, ricotta and eggs. Add butter or oil, lemon zest and lemon juice
Pour milk mixture into flour mixture and whisk until smooth
Heat a fry pan or skillet over medium heat and add 1 tablespoon oil. Add two tablespoons of mixture into pan for each pancake. Cook until bubbles begin to appear, and pancake turns golden. Flip and cook opposite side. Serve warm with toppings of choice.