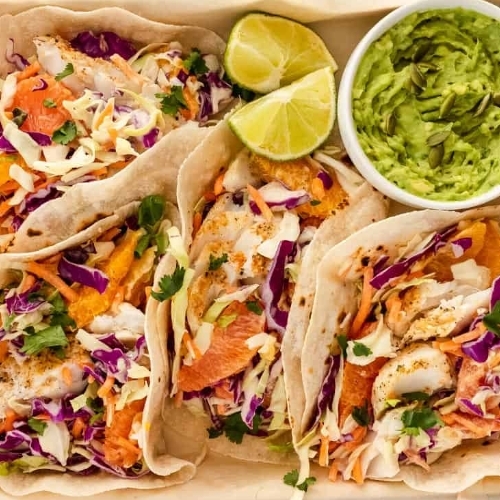 Minneola Tangelo Cod Fish Tacos
Serves 2
Prep time 10mins
Cooking time 10mins
Ingredients
4 tortillas
2 medium to large cod filets
2 tablespoons olive oil
1 Sunkist® lemon, juiced
2 teaspoons garlic powder
salt + pepper
3 Sunkist® Minneola tangelos
1 cup thinly sliced purple cabbage
1 cup thinly sliced Napa cabbage
1/2 cup shredded carrot
1 tablespoon roughly chopped cilantro for garnish
Coleslaw Dressing Ingredients
1/4 cup tahini
1 tablespoon maple syrup
1/2 Sunkist® Minneola tangelo, juiced
2 teaspoons apple cider vinegar
salt and pepper to taste
1/4 cup water
Directions
Preheat the oven to 400 degrees F.
Season the cod with olive oil, lemon, salt, pepper and garlic powder.
Bake for about 10 minutes until the fish is opaque. Meanwhile, prepare the slaw for the tacos (instructions below).
Supreme the Minneola tangelos so that they are cut into segments. Toss with cabbage and shredded carrot.
Pour dressing over the slaw mix and combine.
Assemble tacos by heating the tortillas, adding the slaw and about ½ of each fish filet.
Garnish with chopped cilantro and serve.
Dressing Directions
In a small bowl combine the ingredients for the dressing.
Slowly add water in small increments, occasionally mixing ingredients together until desired thickness is reached.